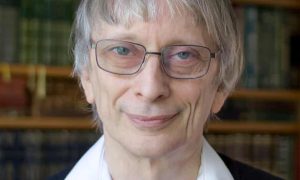 David Deutsch, a theoretical physicist won the most sought-after prize in science for his contributions to the field of quantum computing. Affiliated with the University of Oxford, Deutsch shared the $3m Breakthrough prize money in fundamental physics with three researchers who founded the basic concept of quantum information.
Deutsch, 69, was widely regarded as the 'father of quantum computing' after his proposal of an exotic and currently unbuildable machine to experiment on the existence of parallel universes. His paper, published in 1985, laid the foundation for the basic quantum computers scientists use today.
'It was a thought experiment that involved a computer, and that computer had some quantum components in it,' Deutsch said. 'Today, it would be called a universal quantum computer, but it took another six years for me to think of it as that.'
The Silicon Valley founders refers to the Breakthrough prize as the Oscars of science. It is awarded annually to scientists deemed suitable by a committee of previous winners. In 2022, there is a prize for physics, three prizes for life science, and one prize for mathematics, all worth $3 million each.
One of the prizes for life science was awarded to researchers who traced narcolepsy to brain cells wiped out by rogue immune responses, thus opening the door to new sleep disorder treatments.
The second life science prize went to Princeton's Clifford Brangwynne and Anthony Hyman of the Max Planck Institute of Molecular Cell Biology and Genetics in Dresden. The prize was awarded to them for their discovery that proteins form teams closely resembling flashmobs, which has implications for neurodegenerative diseases. The third life science prize was scooped up by the team at DeepMind for AlphaFold, an artificial intelligence program which can predict the structures of almost every protein known to man. It was referred to as 'the most meaningful thing done with AI in the sciences.'
The prize for mathematics was awarded to Yale's Daniel Spielman for his work which helps high-definition TVs handle unruly signals, scientists avoid bias in clinical trials, and delivery companies find the fastest routes.
Deutsch was born in Israel and raised in North London to parents who survived the Holocaust. He worked on quantum theory for his PhD under Dennis Sciama at Oxford, who had previously supervised the likes of Lord Rees and Stephen Hawking. While studying the foundations of the theory, Deutsch became fascinated by the Many Worlds interpretation explained in 1957 by Hugh Everett III, a US physicist. Everett believed that events which occur in our universe results in the creation of parallel worlds where alternative realities occur.
Deutsch described quantum bits, pushing the concept of quantum computing forward. He also wrote the first quantum algorithm that could outperform its classical equivalent. Deutsch currently makes a living from lectures, prizes, books, and grants.
Deutsch shares the $3 million prize with Gilles Brassard at the University of Montreal, Peter Shor at MIT, a quantum algorithm expert, and Charles Bennett at IBM, who helped invent quantum teleportation and developed unbreakable types of quantum cryptography.
The Breakthrough prizes were founded by Mark Zuckerberg, Yuri Milner, Sergey Brin, and others, and the award ceremony is hosted in Silicon Valley.
By Marvellous Iwendi.
Source: The Guardian