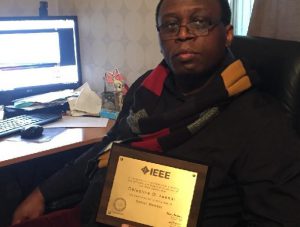 Dr. CELESTINE IWENDI is a Senior Member of IEEE, ACM Distinguished Speaker, Fellow of the Higher Education Academy, United Kingdom, visiting Professor with Coal City University Enugu, Nigeria and Associate Professor with University of Bolton, United Kingdom. He completed his second master's degree in communication Hardware and Microsystem Engineering at Uppsala University, Sweden, 2008, ranked under 100 in the world University ranking and obtained a PhD in Electronics at University of Aberdeen, UK in 2013. He is listed as one of the Top African Scientist. He is a highly motivated researcher with a wireless sensor network security book, and over 100 publications. He has a strong teaching emphasis on communication, hands-on experience, willing-to-learn and 19 years technical expertise and teaches Engineering team Project, Artificial Intelligence, Machine Learning, Data Networks, Electronics, Cybersecurity, Distributed Systems, and Control Systems. He has developed operational, maintenance, and testing procedures for electronic products, components, equipment, and systems; provided technical support and instruction to staff and customers. He is a wireless sensor network and AI Chief Evangelist, researcher, Community developer, Philanthropist and an International speaker in many top conferences and webinar. A Board Member of IEEE Sweden Section (2017 to date). He is the Editor, International Journal of Engineering and Allied Disciplines 2015, Newsletter Editor, IEEE Sweden section- 2016-2018, Editor–in–Chief, Wireless Sensor Network Magazine, 2009, Committee Member, International Advisory Panel, International Conference on Marine, Ocean and Environmental Sciences and Technologies (MAROCENET) 2014-2016, Editor–in–Chief, Journal of Wireless Sensor Network, 2009, Advisory Board, International Journal of Innovative Computer Science and Engineering (IJICSE) 2013. He is the Co-chair of the special session on "Wireless Sensor Networks: Hardware/Software Design aspects for Industry" at the Prestigious International Conference of Industrial Technology ICIT. His research focuses on Wireless Sensor Networks, Cybersecurity, Security of Things (SoT), Machine Learning, AI, Communication Controls, Internet of Things (IoT), Electromagnetic Machines, 5G Networks and Low Power Communication Protocols.
Dr Alastair Allen is a Senior lecturer at the School of Engineering of the University of Aberdeen Scotland. He graduated BSc, DPhil in physics, and has lectured in physics and information technology. He has a wide knowledge of a range of computational techniques and interdisciplinary applications. He is an expert in embedded instrumentation (including Wireless Sensor Networks), distributed computing, and image processing. His research has been supported by research council, European and industrial funding. For example, his group was involved in a recent EC FP6 project, working on aspects of Wireless Sensor Networking. His research group is currently working on the development of wireless sensor applications for physiological, industrial, and environmental monitoring.
Dr Arjuna Sathiaseelan is a Senior Research Associate at the Computer Laboratory, University of Cambridge. Along with Prof. Jon Crowcroft, he leads work on LCD-Net: Lowest Cost Denominator Networking, new Internet paradigm that architects multi-layer resource pooling Internet technologies to support new low-cost access methods that would enable free Internet connectivity to enable social inclusion. He is currently coordinating the EPSRC funded "PAWS: Public Access WiFi Service" project. His other activities include architecting the Future Internet, enabling quad-play (voice, video, data, mobility) convergence, mobile systems especially inter-RAT mobility and Internet of Things. He has also co-authored and contributed to several Internet standards and drafts (IETF) and contributed to the DVB-RCS2 standardization at the ETSI TM-RCS.
Dr. Saad Talib Hasson  is the Head of Computer Science Department and Assistant Professor at the University of Babylon- IRAQ. He has extensive knowledge in Operational Research techniques, Mathematical Modeling and Computer Simulation, Optimization, Queuing theory, Markov Applications, Information Theory, MANET Applications Networks and Project Management, Decision Support Systems, Quality Control and Reliability, Game theory. He is a member of Iraqi Engineering Society, IEEE and Iraqi Society for Reliability & Control. A seasoned conference speaker, and has examined and discussed with over 40 postgraduate students.
Dr. Poonam Yadav is currently a Research Associate in Computing Department at Imperial College London. Before that she was visiting researcher at US Army Research Labs, Adelphi, Maryland, USA from August, 2011 to January, 2012 and worked on ITA (International Technology Alliance) project led by IBM Research from September, 2007 to January, 2012 as a Supplement Researcher. She received her PhD in computing Research specialised in Wireless Sensor Networks from Imperial College London in 2011 . She received M.tech degree in Intelligent Systems from IIIT Allahabad, India and B.tech in Computer Science and Engg. in 2007 and 2004, respectively.

Carlos Abreu graduated in Electronics and Telecommunications from University of Aveiro in 2005. Having done research on Instrumentation, Signal and Medical Image he earned in 2008 a MSc Degree in Biomedical Engineering. In 2014 he received his PhD in Biomedical Engineering from the University of Minho, Portugal.

His research interests focus on Biomedical Wireless Sensor Networks, Cyber-Physical Systems, and also on Gerontechnology. Currently, he is working as Assistant Professor of Engineering at the Polytechnic Institute of Viana do Castelo (IPVC), Portugal.
Dr Raffaello Secchi is a Lecturer at the School of Engineering of the University of Aberdeen, where he is member of the Electronic Research Group (ERG).  He has extensive experience working with TCP/IP traffic modelling and characterization, Scheduling algorithms for traffic differentiation, Network protocols design, Wireless networks and DVB-RCS satellite networks.
Marta Alonso is CEO at SAYME Wireless Sensor Network. She obtained her Bachelor Degree in Telecommunications Engineering from the University of Cantabria (Spain) and her Bachelor Degree in Computer Engineering from the Spanish Open University. She has participated in several R&D projects in the WSN field since 2004, and has headed the development of SAYME's proprietary technology for ultra-low power consumption wireless sensor networks. In 2009, she attended an Executive Master in Management and Business Administration, in which she gained the best final master project for "Energy Control System for Street Lighting" based on SAYME's WSN products. As part of SAYME's team, Marta's expertise in WSN applications includes energy efficiency for street lighting, buildings and industrial plants, structural monitoring, or location and tracking of people and assets in indoors scenarios, among others.
Nassirah Laloo is with the Department of Industrial Systems Engineering, School of Innovative Technologies and Engineering, University of Technology, Mauritius (email: n.laloo@umail.utm.ac.mu). She is currently lecturer at the University and PhD research student. Her field of study is wireless communication and energy modeling for Wireless Sensor Networks. She is also researching on Cloud technologies and the Internet of Things. She obtained her master degree with distinction in Computer Science and Engineering from the University of Technology, Mauritius. She achieved her Bachelor Degree in Computer Science and Engineering from the University of Mauritius. She is as well the programme director of BA (Hons) Graphics Design at the University of Technology, Mauritius and her other fields of interest include communication design, infographics and interactive media design.
Suresh P graduated in Electronics and Communication Engineering, from Anna University in 2008. In the year 2010, he received his Master's degree in Embedded System Technologies from University Department, Anna University of Technology. He received his Doctoral Degree in the Faculty of Electrical Engineering specialized in the Nano Photonics, Nano Optics, Optical Engineering from Anna University in 2014. His research interests are in the field of Optical Engineering, Nano Photonics, Nano Optics, System on Chip, Reconfigurable computing and Embedded Systems. He worked in various institutions designated in various positions and has 12 years of experience. Currently working as professor in Vel Tech Rangarajan Dr Sagunthala R and D Institute of Science and Technology, India.
 He is associated with many professional societies like IEEE from 2010 and obtained Senior Member recognition from IEEE in 2019. He obtained Chartered Engineer a Member of Institution of Engineers, India from 2019. He is a Fellow of Optical Society of India from 2018. He is associated with OSA Community from 2013 and designated in different membership grade.  He delivered his research contribution in various technical meetings and conferences. He has published more than 50 journal articles in reputed journals. He edited technical books in Springer publishers, IGI Global, CRC Press (Taylor and Francis Group), etc,
Marvellous Iwendi is with the Faculty of Law, University of Nigeria, Nigeria. She currently serves as the Managing Editor of the Wireless Sensor Networks Magazine.