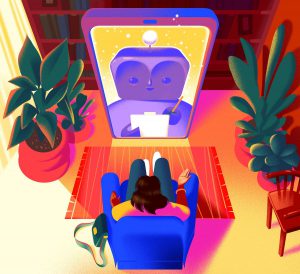 New app called 'Woebot' acts in place of a therapist as a therapeutic chatbot. It presents itself as an automated therapist when finding a real one seem financially or otherwise impossible. The need for therapists is growing exponentially.
According to the Kasier Family Foundation, during the pandemic, 4 in 10 adults in the United States reported that they had symptoms of anxiety or depression. The federal government warns of a shortage of therapists and psychiatrists. According to advocacy group Mental Health America, almost 60% of people with mental illnesses last year did not get treatment.
Woebot Health says the pandemic has increased the demand for its services. According Alison Darcy, psychologist and Founder/President of the company, the number of its daily users doubled and is now in the tens of thousands.
According to an estimate by the American Psychiatric Association, digital mental health has become a multibillion-dollar industry and includes over 10,000 apps. These apps range from guided meditation (Headspace) and mood tracking (MoodKit) to text therapy by licensed counselors (Talkspace, BetterHelp).
Woebot, which was introduced in 2017 is one of only few apps which uses artificial intelligence to employ the principles of cognitive behavioral therapy, a common technique in treating anxiety and depression. Woebot's aim is to use natural language processing and learned responses to imitate conversation, remember past sessions and deliver advice regarding sleep, stress and worry.
'If we can deliver some of the things that the human can deliver,' Dr. Darcy said, 'then we can actually create something that's truly scalable, that has the capability to reduce the incidence of suffering in the population.'
Almost every psychologist and academic agrees with Dr. Darcy that there isn't enough affordable mental health care for everyone who needs it. However, they are divided on her proposed solution. Some are of the opinion that bot therapy can work under the right conditions, while others regard the concept as ineffective and paradoxical.
A contending issue is the nature of therapy itself. Can bot therapy help people understand themselves better? Can it change lifelong-held patterns of behavior through questions and reflective exercises? Is human connection essential to therapy?
Hannah Zeavin, author of the forthcoming book 'The Distance Cure: A History of Teletherapy' says the health care system is so messed up that 'it makes sense that there's space for disruption.'
She however added that not all disruption are equal. She regards automated therapy as a 'fantasy' which is emphasized on accessibility and convenience than actually helping people get better.
'We are an extraordinarily confessing animal; we will confess to a bot,' she said. 'But is confession the equivalent of mental health care?"
By Marvellous Iwendi.
Source: The New York Times