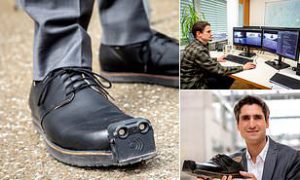 Computer scientists have invented an 'intelligent' shoe which helps visually-impaired people avoid obstacles.
The product called InnoMake, worth €3,200, was developed by Austrian company Tec-Innovation, supported by Graz University of Technology (TU Graz).
The product is made up of waterproof ultrasonic sensors attached to the tip of each shoe, which vibrate and make sounds near obstacles.
The nearer the distance of the wearer to the obstacle, the quicker the vibration becomes, similar to a parking sensor at the back of a vehicle.
Tec-Innovation is currently working on adding an AI-powered camera as part of a new iteration of the product.
'Ultrasonic sensors on the toe of the shoe detect obstacles up to four meters away', said Markus Raffer, founder of Tec-Innovation, himself being visually-impaired as well.
'The wearer is then warned by vibration and/or acoustic signals. This works very well and is already a great help to me personally.'
The product price includes one device per foot, one pair of shoes, as well as a USB charger. Stylish and practical.
By Marvellous Iwendi.
Source: Mail Online